When:
April 12, 2017 @ 9:00 am – 12:00 pm
2017-04-12T09:00:00-06:00
2017-04-12T12:00:00-06:00
Where:
Meet at Sierra del Norte Trailhead (The Corral)
Hyde Park Rd
Santa Fe, NM
USA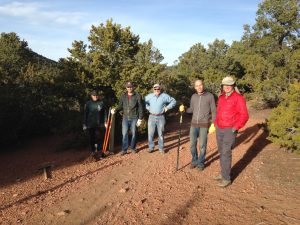 Come work on Dale Ball Trails, Central Section, with city trail volunteers.  We'll meet at Sierra del Norte Trailhead and carpool up Cerros Colorados Rd. to get to the trail crossing near Junction 21.
We will put some finishing touches on the signage we put up last year and address some drainage and erosion issues around Junctions 21, 22, and 23.
Bring work boots, long pants/shirt sleeves, sun protection, snacks, and water.  I'll bring the tools and supplies as well as work gloves for whoever needs them.
To sign up, contact Tim Rogers at tim@sfct.org or (505) 989-7019.