When:
October 8, 2015 @ 9:00 am – 12:00 pm
2015-10-08T09:00:00-06:00
2015-10-08T12:00:00-06:00
Where:
Dale Ball Trails Central
Cerros Colorados
New Mexico 87053
USA

Contact:
Tim Rogers, City Trail Volunteer Coordinator
989-7019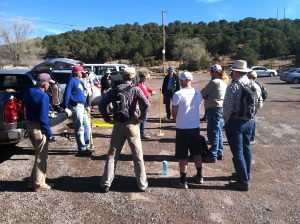 Join us as we address maintenance needs on Dale Ball Trails, Central Section,  south of Hyde Park Rd., one more time.  We'll meet at the "Corral" trailhead (Sierra del Norte Rd./Cerros Colorados Rd.) at 8:30, then we can carpool up Cerros Colorados Rd. to minimize the number of cars we need to park up there.
We will work west of Cerros Colorados Rd. where it is crossed by Dale Ball Trails.  There is some parking space on the gravel where the trail emerges just w. of Junction 21.
We visited this area several times in August and September – click on the links to see what we did, or find it on http://www.sfct.org/trails/sfct-trail-events-in-2015.  This time, we will focus on remaining needs north of Junction 19, up to "the shrine."
Bring work boots, long pants/shirt sleeves, sun protection, snacks, and water.
To sign up, contact Tim Rogers at tim@sfct.org