When:
June 28, 2016 @ 8:30 am – 11:30 am
2016-06-28T08:30:00-06:00
2016-06-28T11:30:00-06:00
Where:
Dale Ball Trails South, Cerro Gordo Trailhead
Upper Canyon Rd
Santa Fe, NM
USA

Contact:
Tim Rogers, City Trail Volunteer Coordinator
989-7019
Join us in helping maintain and improve Dale Ball Trails – South, revisiting our re-route of 2014, and put some final touches on the new approach to the Dale Ball South-Central Connector, just north of Cerro Gordo Trailhead parking lot.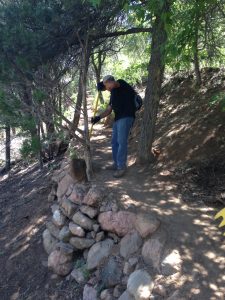 We are waiting for the go-ahead's from City Parks to purchase new junction signage for all of Dale Ball Trails, and from City Water Division to complete and open the new trail connection where their Sand Filter building used to stand.
For a progress report to date on the SFCT web site, see: http://www.sfct.org/trails/sfct-trail-events-in-2016/dale-ball-connector-to-cerro-gordo-trailhead
Bring work boots, long pants/shirt sleeves, sun protection, snacks, and water.
To sign up, contact Tim Rogers at tim@sfct.org