SFCT Focal Area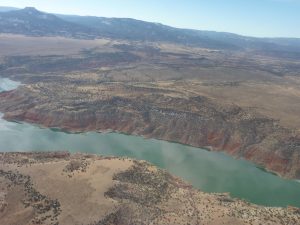 Conserved Area
5 conservation easements, 6228 acres
Description
Ensconced along the Rio Chama as it winds its way between the San Juan and Jemez mountain ranges, Abiquiu Reservoir is one of the great water resources of New Mexico. The 5,200 acre lake is capped by the earth-filled Abiquiu Dam, before the Rio Chama continues on its way the town of Abiquiu and then to meet up with the Rio Grande. The reservoir itself has become a keystone of New Mexico's recreational pastimes, with outdoor enthusiasts engaging in camping, hiking, swimming, boating, and fishing along the 12 mile lake. The sublime red sandstone landscape of the Abiquiu area was the inspiration for internationally acclaimed artist, Georgia O'Keefe.
History
The oldest residents of record in Abiquiu were Ceolophysis dinosaurs, fossils of which have been found in Abiquiu and date back 220 million years to the Triassic era. The fossils of these hollow-boned, alligator-like dinosaurs are on display at the nearby Ghost Ranch.
The present day community of Abiquiu was founded on the ruins of the P'efu Pueblo, which is surmised to date back to the thirteenth century, after exodus from the north of Tewa people. The pueblo lasted until sometime in the 1500s. The other name for this pueblo was Avéshu, interpolated by the Spanish who came later as "Abiquiu."
Hispanic settlers populated the area along the Rio Chama in the 1730s, eventually accruing some 20 families, naming the place Santa Rosa de Lima de Abiquiu. In addition to the Hispanic families, Genizaros (detribalized Indians) were settled nearby, and given the first non-Pueblo Indian land grant.