SFCT Focal Area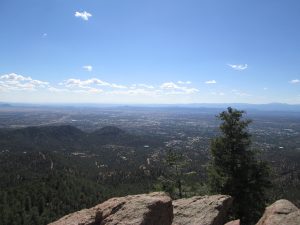 Conserved Land
18 conservation easements, 341 acres
Description
Santa Fe, the capital of New Mexico, is located in the north-central portion of the state at the foothills of the Sangre de Cristo Mountains, 7,000 feet above sea level. Founded by Don Pedro de Peralta in 1610, Santa Fe is the oldest capital in the United States. Archaeological evidence of Native American presence in the area dates back far earlier, to approximately the sixth millennium B.C., while large scale settlements such as the Pindi and Agua Fria Pueblos were constructed along the Santa Fe River around 1100 A.D., to be followed by the Arroyo Hondo and Cienegilla Pueblos around 1300.
The City of Santa Fe has seen a lot in its 400 year history: as a Spanish Colony, interrupted by a pueblo rebellion in 1680-96; as a Mexican Territory after the Mexican War of Independence of 1821; as a U.S. Territory after the Mexican-American War of 1846-48; and finally as a State Capital when New Mexico was admitted as a state in 1912.
Santa Fe flourished as a trade hub for much of its history. El Camino Real de Tierra Adentro, "The Royal Road to the Interior" served as a trade route to Chihuahua and Mexico City. The Santa Fe Trail became the first highway into the West in 1821, the same year as the Mexican War of Independence, bringing thousands of pioneers, settlers and tradesmen from the eastern U.S. to Santa Fe and the surrounding area. Santa Fe's place as a trade hub ended when the city was bypassed, first by the continental railway line in 1880, and then by Route 66 in 1937.
Santa Fe has had to re-invent itself as a cultural hub, fusing Native American, Spanish and Anglo cultures, encouraging tourism, a vibrant art market, and a healthy environment perfect for outdoor recreation.
The cultural diversity and natural charm of Santa Fe are exemplified by the distinctive foothills of the Sangre de Cristos that define Santa Fe's eastern skyline and have also defined our conservation efforts in Santa Fe. Among the landmark hills that the Santa Fe Conservation Trust has helped protect are Atalaya, Sun Mountain, Sallie's Hill and Cerro Gordo.
The Santa Fe Conservation Trust announced in 2015, the acceptance of a 15.7 acre Railyard conservation easement from the Trust for Public Land.  In an agreement reached between the two entities, the Santa Fe Conservation Trust will assume the responsibility for the protection of the Santa Fe Railyard Park and Plaza conservation easement, preserving scenic and open space, natural, historical and recreational values.  Working in collaboration with the City of Santa Fe, the Santa Fe Railyard Community Corporation, and the Railyard Stewards, the Santa Fe Conservation Trust will help ensure that the Railyard Park and Plaza are maintained in perpetuity as a park and community gathering place, in a dynamic, multi-organizational structure that also includes an active rail line and multi-use rail trail.