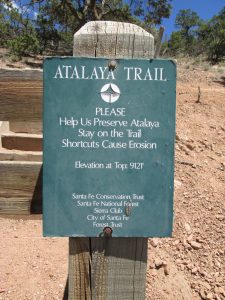 Please join us for maintenance of the Atalaya Trail, which SFCT adopted on behalf of the Santa Fe National Forest several years ago. We will meet at Wilderness Gate trailhead, and then carpool through the gate to bring everything to the top of Camino Cruz Blanca and head up the trail from there.
Bring work boots, long pants/shirt sleeves, sun protection, snacks, and water.
Let me know if you can make it – – – contact Tim Rogers at or (505) 989-7019.