When:
November 28, 2016 @ 9:00 am – 12:00 pm
2016-11-28T09:00:00-07:00
2016-11-28T12:00:00-07:00
Where:
Dale Ball Trails
Trailhead to be determined
Contact:
Tim Rogers, City Trail Volunteer Coordinator
989-7019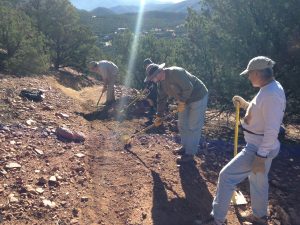 Join us in helping maintain and improve Dale Ball Trails, location t.b.d.  We will be doing some traditional erosion control as well as continuing work on supplemental arrow signs to go with the new junction signs.
Bring work boots, long pants/shirt sleeves, sun protection, snacks, and water.  I'll bring the tools and supplies as well as work gloves for whoever needs them.
To sign up, contact Tim Rogers at tim@sfct.org or (505) 989-7019 and I'll let you know where we plan to meet (either Sierra del Norte or Wilderness Gate (depending on my success getting supplies).