When:
May 13, 2015 @ 4:00 pm – 6:00 pm
2015-05-13T16:00:00-06:00
2015-05-13T18:00:00-06:00
Where:
La Tierra Trails, Junction "6.9"
Camino de los Montoyas (see map below for details)
It's Fun!  It's Fast!!  It Flows!!!
Come to the Grand Opening of the "La Tierra Flow Trail."  The Flow Trail is a brand new, bike-specific, downhill-only trail in the City of Santa Fe's "La Tierra Trails."  The Flow Trail was built with the assistance of expert trailbuilder Joey Klein of the International Mountain Bicycling Association's "Trail Solutions" program, with the assistance of volunteers from our local IMBA Chapter, the Santa Fe Fat Tire Society (SFFTS), and other members of the local trail community.
More than 60 volunteers contributed approximately 1,000 hours of their time for the construction of the new trail, that's why we're having not just a ribbon cutting at 4:00 pm but a special showing of volunteer appreciation at 5:30.  In between the two events, participants are welcome to . . . . .  ride the Flow Trail!!!
Event Flyer: Flow Trail Opening
The Flow Trail is a considered a "technical trail" in that it has rises and banked turns that may require some advanced bicycling skills to get it done with style and speed.  A sign at the top, just west of "Junction 7," puts users on notice of the "technical trail," but the fact is that all of these fun features can be rolled over and through at any speed, and so the Flow Trail can be enjoyed by cyclists of any skill level.
So much so, that when you finish at Junction 13, most likely with a big smile on your face, you may just want to ride up the nearby ridge, through Junctions 5 and 6, and do it all over again.
The Flow Trail was brought to you through the generous support of SFFTS and the City of Santa Fe, through the Bicycle and Trails Advisory Committee (BTAC).  Thanks also go to the City's Parks and Recreation Department, the City's Archaeological Review Committee, and Zia Archaeology for helping to clear the way to make this trail happen in harmony with the City's stewardship of public open spaces and cultural resources.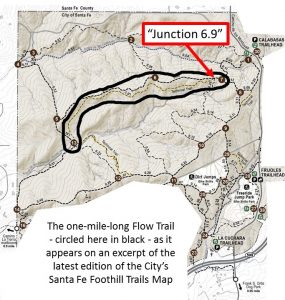 Flow Trail Map with Junction 6.9