When:
August 2, 2017 @ 8:30 am – 11:30 am
2017-08-02T08:30:00-06:00
2017-08-02T11:30:00-06:00
Where:
Meet at Dog Park Playground Parking Lot (Frank Ortiz Park)
Camino de Las Crucitas
Santa Fe, NM 87501
USA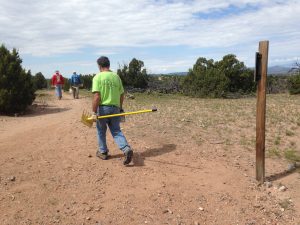 Come help continue work on the "Dog Park Connector," a GUSTO demonstration project to tie a single-track trail into La Tierra Trails via the "Montoyas Trail."
We will not be building the trail yet, but removing trash and debris in the area.  We took a good first crack at this last Tuesday.  By mid-August we will have clearance to put in the trail, starting near the top of the first hill off of Camino de los Montoyas as one heads north.
Perhaps not a work day for the squeamish, but there will be heavy duty and light duty tasks to go around.
Bring work boots, long pants/shirt sleeves, sun protection, snacks, and water. I'll bring the tools and supplies as well as work gloves for whoever needs them.
To sign up, contact Tim Rogers at tim@sfct.org or (505) 989-7019.