TRAIL PROJECTS IN 2018
In 2018, we continue our maintenance of Dale Ball Trails, La Tierra Trails, and other City Trails under our professional services agreement with the City, as well as our stewardship of Santa Fe National Forest's Atalaya Trail.
Vámonos Santa Fe, a new initiative for SFCT to work with public health partners to lead walks on urban trails, will roll out this Spring with hikes on city trails.  In May we will also work with the City and partners to promote and lead events for "Bike Month," and we will bring over 300 schoolchildren out to Dale Ball and Connecting Trails through the support of the Frost Foundation and Partners in Education.
We also continue work with the Santa Fe Fat Tire Society, the Santa Fe County Horse Coalition, the National Parks Service's Rivers, Trails, and Conservation Assistance (RTCA) program, and local partners to plan around the vision of the Grand Unified Santa Fe Trails Organization (GUSTO) to build natural-surface trails connecting all of the various trails and trail systems around Santa Fe.  SFCT's management of this effort is supported by the Larsen Fund and the Lineberry Foundation.
In June, we will once again collaborate with local partners to celebrate National Trails Day, including the opening of the Camino Real Trail on June 2, as well as Take a Kid Hiking Day.
For details on specific events in 2018, please see "SFCT Trail Events in 2018."
TRAIL PROJECTS IN 2017
In 2017, we worked with volunteers and other partners to maintain City Trails, including Dale Ball Trails, La Tierra Trails, and for the first time, the Sun Mountain Trail, as well as the Atalaya Trail on behalf of Santa Fe National Forest.
Highlights in Dale Ball Trails included removing un-needed wooden water bars from city sections of Dale Ball Trails south and collaborating with Santa Fe County and The Masters Program to use them as signposts for the last of the new wayfinding arrows in the Dale Ball system.  We focused on connector trails in the area of La Tierra Trails, laying out the route for the Dog Park Connector to the south, removing a significant amount of trash (thank you for doing the dirty work, volunteers!), and completing the Arbolitos Trail to the northeast (thank you for doing the heavy lifting, volunteers!).
Promotional events included 16 field trips to Dale Ball Trails, 10 field trips to La Tierra Trails, the Caja del Rio Gravel Grinder bike ride in May, and the first-ever "Take a Kid Hiking Day" in June.
TRAIL PROJECTS IN 2016
In 2016, SFCT was proud to receive the "Mayor's Sustainability Award" in the category of transportation for our advocacy and coordination of efforts around trails, "walkability," and "bicycle-friendliness."  The mid-year transfer of our Professional Services Agreement with the City from Public Works to the Parks and Recreation Department mid-year introduced the opportunity to become more involved in planning for and improvement of city parks as venues for physical activity including walking and bicycling.  The emphasis remained, however, on continued maintenance of trails in City Open Space, particularly Dale Ball Trails and the La Tierra Trails, as well as our stewardship of Santa Fe National Forest's Atalaya Trail.
Highlights of the year included replacing the faded Dale Ball junction signs, collaborating with Santa Fe Community College, Santa Fe County, and The Masters Program to connect the Spur Trail into SFCC campus on behalf of the GUSTO initiative, and taking our 1,000th kid out to City trails at the end of the year.
For summary data for the year on trail work days, field trips, and other promotional activities, see Year-End Summary for 2016.  For details on specific events in 2016, please see "SFCT Trail Events in 2016."
TRAIL PROJECTS IN 2015
In April, we worked with IMBA Trail Solutions and the Santa Fe Fat Tire Society to build the "Flow Trail" in La Tierra Trails, a massive volunteer effort – more than 1,000 volunteer hours recorded – that produced a new, unique resource for the off-road cycling community.
Promotional activities included Dale Ball Day on March 6, helping to host a visit from the League of American Bicyclists on April 8, the South Side Community Cruise on May 9, and helping the City and partners plan and implement Bike to Work Week in the week that followed.  In May, we continued our Field Trips to City Trails through the generous support of the S.L. Gimbel Foundation.  We took out groups of City Summer Campers in June and July, and in October we expanded field trip activities to two more grades and one more south-side school through twelve field trips to La Tierra Trails, thanks to support from the Lineberry Foundation.
For details on all of these trail events and year-end summaries of our trail work and promotional activities in 2015, including levels of contribution by our trail volunteers, see "SFCT Trail Events in 2015."
TRAIL PROJECTS IN 2014
In 2014 we were busy with trail maintenance under our new contract with the City and our adoption of SFNF's Atalaya Trail.  We participated in the Trail Care Crew Visit from IMBA, arranged by the Santa Fe Fat Tire Society, and the afternoon work event on the Winsor Trail, a re-route below the Norski Trail.  We also worked with SFFTS and the City to prepare for the "Flow Trail" in La Tierra Trails, to be built in 2015 with assistance from IMBA's Trail Solutions design crew.
The year finished with construction of a short segment of the City's Camino Cruz Blanca Trail that was never built and a re-route of Dale Ball Trails above Junction 29 on land belonging to The Nature Conservancy.   For details on all of these trail events, and a year-end summary of all of our trail work and promotional activities in 2014, see "SFCT Trail Events in 2014" and Summary of City Trail Volunteer Coordinator Activities in 2014.
SUN MOUNTAIN OPENS TO PUBLIC



A Community Success Story
The foothills property near Old Santa Fe Trail made headlines in 2009 when concerns about a proposed development plan prompted "Save Sun Mountain," a citizens' movement to purchase and protect the iconic 22 acres.  Working with the Trust for Public Land and garnering financial support from throughout the community, the $3.2 million purchase was completed in 2010 – thanks to this citizen movement.
Just in time for the summer hiking season, in recent weeks the City of Santa Fe completed trail-head amenities; Volunteers and the Trails Alliance of Santa Fe defined the footpath; and today the trail ascending Sun Mountain is open for public enjoyment. Until now, people wishing to gain access to the mountain top had to use a rustic informal trail.
"The preservation of Sun Mountain was a real victory for those who cherish Santa Fe's world class hiking trails," said Charlie O'Leary, Executive Director of the Santa Fe Conservation Trust, one of several community partners responsible for the preservation of the mountain. "We were pleased to be a part of this community-wide effort to help the City ensure that Sun Mountain and its trails will always be open to the public."
The Santa Fe Conservation Trust holds an easement on the property, ensuring that land lying at the base of Santa Fe's Sun Mountain received permanent legal protection and will never be developed. Public access has been preserved and the trail will forever remain a part of the City's open space program. This land conservation success story was a real community effort by several groups and private donors including Save Sun Mountain, The Trust for Public Land, The City of Santa Fe, Santa Fe Conservation trust and the Trails Alliance of Santa Fe.
LA PIEDRA TRAIL ~ connecting the city to the sky
Hiking the new La Piedra trail from the Dale Ball trailhead at Sierra del Norte and Hyde Park Road up and over the hills and down into Little Tesuque Creek represents a journey of great collaboration. On June 1, 2012 the day before National Trails Day, we gathered at the same trailhead to celebrate the official opening of this new trail; Dale Ball, the father of one of the city's most beloved trail systems was on hand to help cut the ribbon. His actions came full circle on this day as our desire to link the city's lower trails with the higher elevation trails in the national forest became reality.
The completion of the trail connection and dedication of over 50 acres of associated open space is a real boon to the community. The success of this conservation project would never have been possible if it were not for the generosity of many community minded individuals coming together both privately and professionally for a common goal that was bigger than any of us; in this case the outcome was far greater than could have been achieved by individual action. Plus it can be a lot more fun working with one another!
The Santa Fe Conservation Trust would like to take another opportunity to express our sincere gratitude to the many individuals, financial contributors, local businesses, public agencies and volunteers that all came together at the right time, under the right circumstances to do the right thing to benefit the public in ways that make us proud to be part of this community.
La Piedra Thank You:
• Anonymous land donor
• TBL Land Co., /Thorpe Family
• Steve Flance
• Richard Hughes
• Santa Fe County Open Space and Trails Program
• Santa Fe Board of County Commissioners and District 1 Commissioner Daniel Mayfield
• Santa Fe County COLTPAC members
• City of Santa Fe Parks Division
• City of Santa Fe BTAC members
• Santa Fe Metropolitan Planning Association
• S. L. Gimbel Foundation
• REI
• Sangre de Cristo Mountain Works
• La Tierra Torture Mtn. Bike Race Committee
• Project 101.5 FM
• Wells Fargo Bank
• BTI
• Collected Works
• Value Enhancement Fund II, LLC
• The Trails Alliance of Santa Fe
• Bob Berger
• Mary Beth Bigger
• Kerry Brock
• Jim Crain
• Mark Delfs
• Pamela Demmer
• Alice Dorshow
• Jeff Fornaciari
• Gordon and Hale, Steve Berry
• Bill Johnson
• Susan Lanier
• Kent Little
• Lesley Mansfield
• Andrew Nowak
• John Otter
• Donna Peth
• Steven Schlam
• Peter Vennema
• Margaret Alexander
• Steve Bassett
• Don Begley
• Kevin Brennan
• Mary Pat Butler
• Dean Buzbee
• Judy Costlow
• Brandon Dasher
• Sandra Deacon
• Paula Eastwood
• Scott Ernst
• Faith Garfield
• Shari Hier
• Kerry Helke
• Melissa Houser
• Jan-Willem Jansens
• Billy Johnson
• Nick Knorr
• Carlie Lines
• Lynn Lown
• Eileen Loy
• Kira Luna
• Preston Martin
• Spencer Martin
• Sean Mcconville
• Mike Mellon
• Brain Nelson
• Lily O'Leary
• John Parker
• Thomas Patton
• John Peach
• Stephen Post
• Larry Prescott
• BC Rimbeaux
• Shelley Robinson
• Peggy Rudberg
• Charles Scott
• Steve Sherr
• George Simon
• Steve and Cath Washburn
• Larry Werner
• Brooks White
The La Piedra Trail now provides three miles of new recreational public trails connecting Dale Ball Trail North with the Little Tesuque Creek Trail. The trail allows trail users the opportunity to enjoy breath-taking views of the Tesuque Valley as well as shaded forests of piñon and ponderosa pines as the trail winds its way through diverse terrain and alongside cool, running creeks.
This link, connecting urban "wilderness" trails with the Santa Fe National Forest via Santa Fe County Open Space and the 13,000-foot high peaks of the Sangre de Cristo Mountains high above Santa Fe, enhances and expands the hiking, trail running and mountain biking experience for those who take to the trails each and every day; the La Piedra Trail promises to be one of the most important non-motorized trail connections in Santa Fe.
Since the founding of our city over 400 years ago, trail access to the mountains – and nature – has been important to residents and visitors alike. However, with increased development on private land, the construction of paved roads and the continued practice of fencing lands, all of the major routes over natural surfaces have either been closed to the public or abandoned altogether. Our goal is to reestablish this lost connection by constructing a new trail link: connecting the city to the sky. The many public and private partnerships between the land trust, landowners and our public agency partners make this project unique; there is no other private entity like the Santa Fe Conservation Trust in Santa Fe working on important public trail issues of this magnitude.
La Piedra Trail Map PDF Download ~ Large Format
Caring for Good Trails:
A Field Guide for Trail Maintenance Volunteers in the
Southwestern U.S.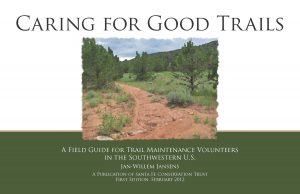 by Jan-Willem Jansens, A Publication of Santa Fe Conservation Trust
This technical field guide is designed for volunteer trail stewards in the Southwestern United States. The practices described here are the result of many years of work on watershed restoration and open space management in Northern New Mexico. The purpose of the document is to:
Enhance public interest in high-quality, sustainable trails that provide a great outdoor experience
Raise awareness of the characteristics of good trails, and
Offer guidelines for best practices for trail repair and maintenance.
This guide will be useful for workshops and field events that are intended to increase the public's knowledge of trails and reduce trail maintenance by making trails more sustainable. For this guide to be useful, we assume that trail managers have evaluated trail purpose, use, and management, and will lead and communicate trail repair and maintenance work accordingly.
The Caring for Good Trails pdf can be downloaded here, or come by our office at 316 E. Marcy St. to pick up a hard copy for $5.
Arroyo Hondo Open Space — You can see forever from here!
Now open to the public
Located just outside Santa Fe and only a 12-minute drive from the Plaza, 86 acres of natural lands known as the Arroyo Hondo Open Space are forever protected by Santa Fe County in partnership with the Santa Fe Conservation Trust.
A mile-long, fairly level loop trail affords spectacular views of Santa Fe, the northern stretch of the Galisteo Basin, Sandia Mountain, and, on a clear day, Mount Taylor—99 miles away.
To reach the Arroyo Hondo Open Space, take Old Pecos Trail south out of Santa Fe, crossing over Interstate 25, until it dead-ends at Old Agua Fria Road. Turn left and follow Old Agua Fria nearly to its end to find the parking lot on your right.
Open sunrise to sunset, year round. Suitable for hiking, easy mountain biking, photography, nature study, and equestrian use. Please stay on trails to prevent damage to extremely fragile erosive soils and native vegetation. Don't miss the views down to the wetlands and historic, early 1900's dam site that was never completed and, in summer, claret cup and prairie zinnia in gorgeous bloom.